Whether you are at the beginning of a business or personal relationship – or you are ready to terminate one – an asset search can be a valuable tool, allowing you to protect your best interests using concrete information.
An asset search is typically done using a specialized version of an online search or a background search investigation. It is used to review specific information regarding an individual's overall net worth. Asset searches can be used to find house titles, businesses currently and previously owned, titles or loans for luxury toys or vacation homes and even previous places of employment. They can also provide information about an individual's credit history, which can be a valuable analytic tool.
Ultimately, a thorough asset search provides a valuable piece to the overarching puzzle. Linked Investigations  recommends the use of an asset search:
Before moving in with or marrying your romantic partner.
To investigate individuals involved in a business investment.
As part of an elder abuse investigation.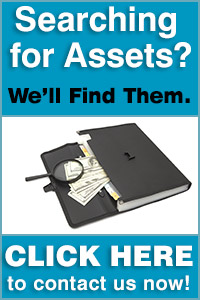 Get a Complete Picture – The First Time Around
Our asset search services also uncover negative information, which can be as or more important than positive or credit-oriented information. An asset search may also turn up bankruptcies, judgements, tax liens, defaults, and other disfavorable information that could alter the way you make your final decisions.

A professional asset investigation takes experience, know-how and access to the right professional databases to get accurate results. Call us today at 714-432-9911 or contact us online. Tell your story and discuss your case in a caring and confidential setting with a licensed private investigator. Our initial consultations are always free, and there is never any obligation.